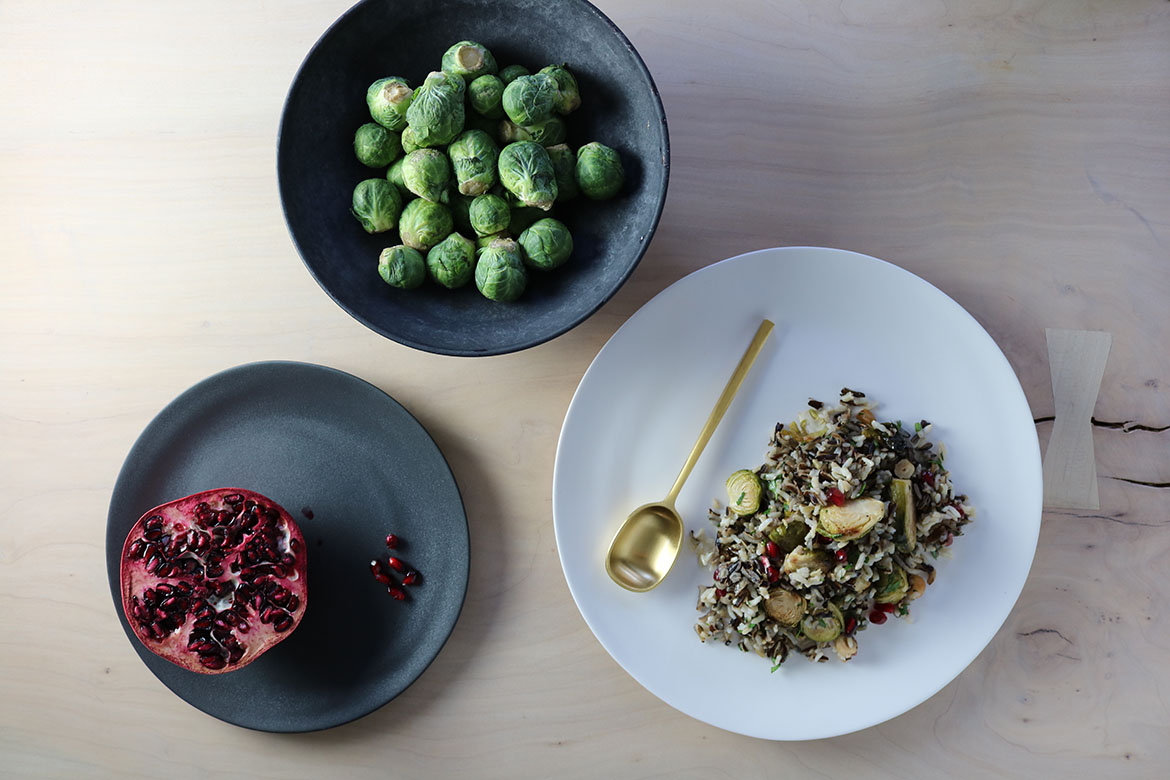 With its green, red and earthy browns, this Brussels Sprout Pomegranate Wild Rice is a great way to kick-off the holiday season!
I love using pomegranates this time of year – when they're in season and so easy to find at the market. Once intimidated to cook with this fruit, I've come around once I learned this technique to de-seed a pomegranate, which makes it a lot easier and no longer a super messy process. Although it's definitely worth the effort to get these amazingly nutritious and tasty seeds. Pomegranate seeds have that sweet and sour combination that really appeals to my palette. Plus, pomegranate seeds pack a nutritional punch and are loaded with fiber, Vitamin C, Vitamin K and potassium. With their super high antioxidant activity, they have also been shown to help prevent certain forms of cancer. They have also been shown to elevate moods and act as a natural aphrodisiac! What's not to like?
Brussels sprouts, on the other hand, can be one of those polarizing vegetables. Some people associate Brussels sprouts with those smelly boiled tiny cabbages that are less than appealing. I assure you. This is far from that! Roasting Brussels sprouts is the way to go and transforms this vegetable into bite-sized balls of sweet goodness with the perfect texture of crispiness on the outside and softness on the inside. Still need convincing? Add a little maple syrup for the last 10 minutes of cooking time. No one can turn down anything caramelized with maple syrup!
Why should you eat Brussel sprouts you ask? Like many other cruciferous veggies, Brussels sprouts show up a lot in my kitchen. These little baby cabbages are super high in Vitamin C and K (only 1 cup will meet your daily requirement!). They are also a great source of folate, potassium, B vitamins, manganese and beta-carotene. Similar to other cruciferous vegetables (kale too!), they contain glucosinolates, which are cancer-fighting phytochemicals. Glucosinolates help kill cancer cells and also reduce carcinogenic effects of many environmental toxins, and eh hem, all those toxins you consume during this holiday season…
BRUSSELS SPROUT POMEGRANATE WILD RICE
Ingredients
1

cup

wild rice

1

cup

brown rice

4 1/2

cups

water

divided

2

lbs

Brussels sprouts

1 1/2

Tbsp

avocado oil

1

pomegranate

seeded

1/2

cup

parsley

chopped

1/4

cup

hazelnuts

chopped and toasted

1/2

cup

extra virgin olive oil

1 1/2

tsp

sea salt

divided
Instructions
Preheat oven to 375 degrees F.

In a pot, put wild rice and 3 cups of water. Bring to a boil. Reduce heat to low and simmer covered for 45 minutes. Drain off any excess water.

In another pot, put brown rice and 1 1/2 cups of water. Bring to a boil. Reduce heat to low and simmer covered for 20 minutes. Allow to stand covered and undisturbed for another 10 minutes.

While rices are cooking, prepare Brussels sprouts. Remove any browning leaves, trim stem and cut in half. Toss Brussel sprouts with avocado oil and season with 1/2 tsp sea salt. Top with freshly ground black pepper, to taste. Spread Brussels sprouts on a baking sheet in one layer. Roast for 35 minutes, stirring halfway through.

In a large bowl, put cooked wild rice, brown rice, Brussel sprouts, pomegranate seeds, parsley, hazelnuts, extra virgin olive oil and the remaining 1 tsp of sea salt. Toss well. Taste and adjust seasoning adding sea salt and pepper, to taste.
0