I grew up eating Chinese food. Every Chinese New Year, we would have hot pot, a soupy pork- or chicken-based broth simmering away on a hot plate in the center of the kitchen table. There would be an extensive spread of food to cook in the broth – noodles, a variety of Chinese vegetables, fish balls, clams, marinated meats, tofu, mushrooms and so much more. My mom didn't mess around when it came to the options. Many of the food items symbolized a good wish for the New Year. Noodles represents happiness and longevity, clams good fortune, dumplings wealth, sweet rice balls family togetherness. It was a tradition that was somewhat lost as I grew older and busier.
Now as an adult with children, I'm looking to revive more Chinese culture into our lives. It's so easy to lose sight of your heritage, but I've had a renewed appreciation for my ancestry bringing more depth and focus to my identity. One way I'm doing this is bringing back the hot pot tradition for the New Year. The biggest obstacle for me is the fact that I'm vegetarian. How do you find a great tasting vegetarian substitute for chicken or pork broth that will successfully frame the rest of the Chinese meal? I found my answer traveling in Taiwan this summer.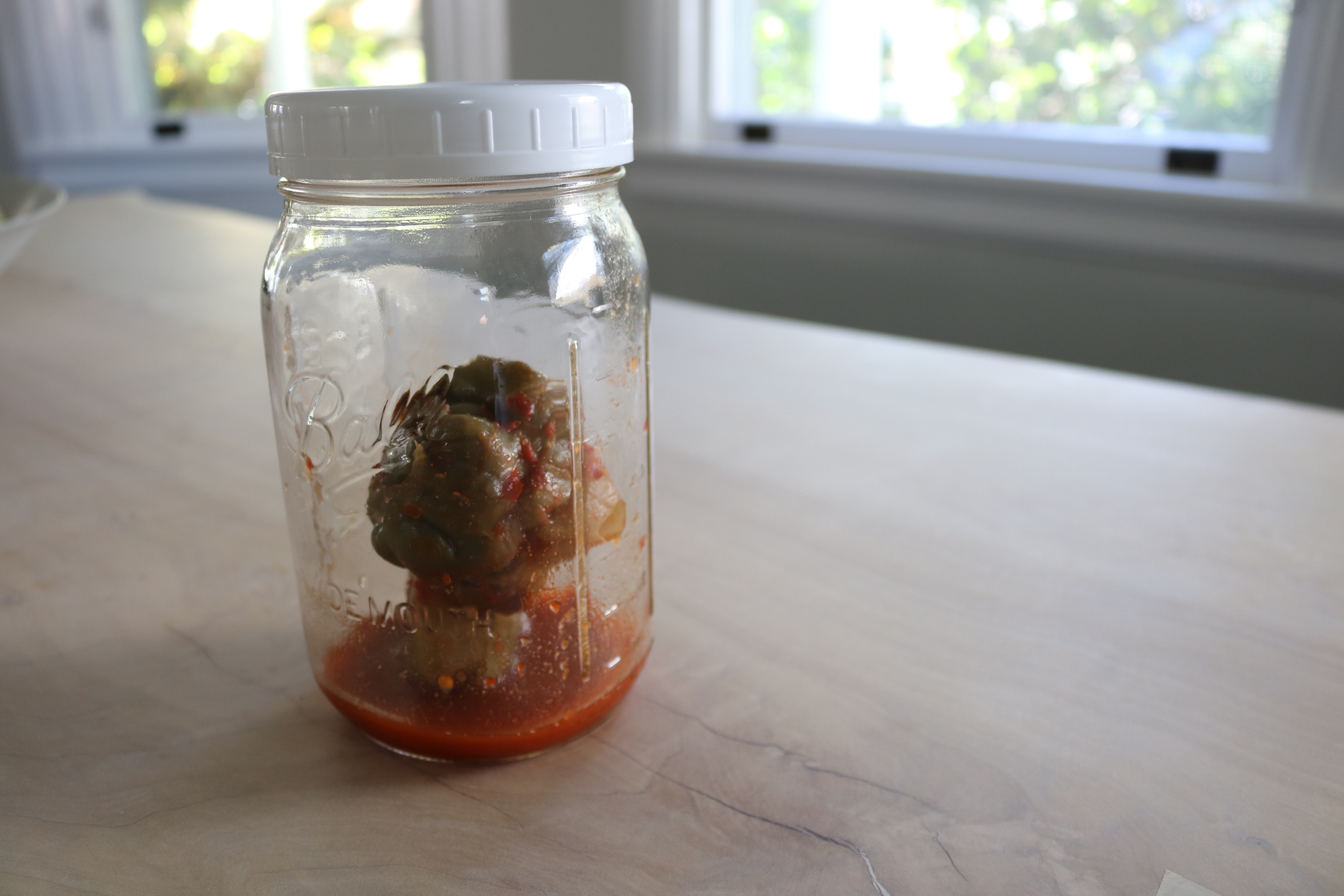 My kids go nuts for hot pot. While in Taipei over the summer, we had hot pot dinner at least four times…in 100+ degree heat. We found a hot pot restaurant with a vegetarian option, not an easy task in Taiwan's pork-centric food landscape. The server brought me a pot of water with some seriously ugly vegetables swimming on the bottom. I heated those suckers up with some chopped red chilies, and to my surprise, it produced the most delicious vegetarian broth with a flavor profile that did not disappoint. The question was, what were those ugly looking things? I couldn't find out from the server because my Mandarin skills were just not up for the challenge. I snapped a picture and hoped to find out some day.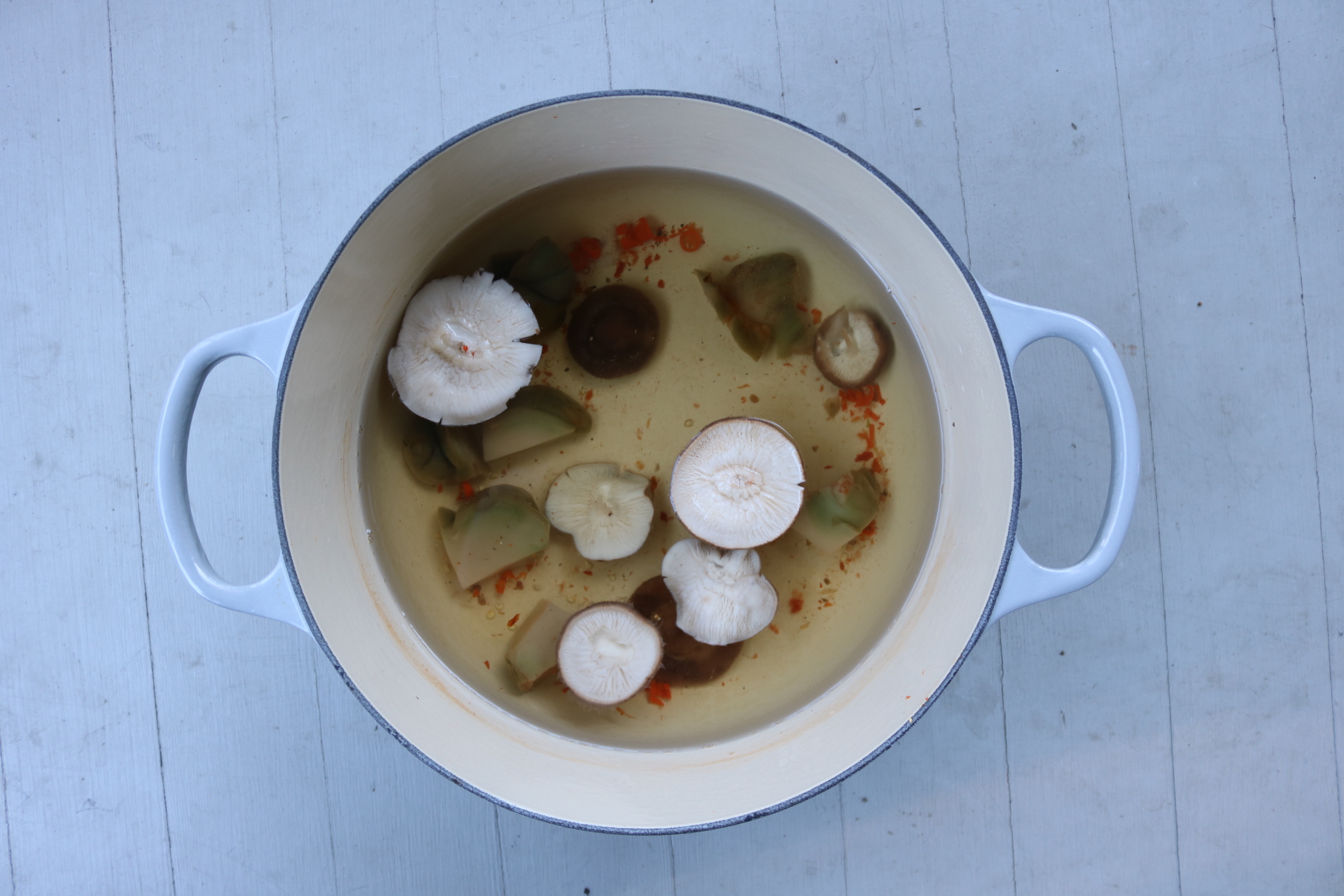 Lucky for me, my friend's in-laws were visiting from Taiwan, and not only identified the vegetable, but bought some for me from a local Asian grocery store. It is called Zha Cai, or a pickled mustard tuber. The even better news is that they are fermented in earthenware jars similar to Kim Chi! Probiotics anyone? Bonus! (well, probiotics when unheated, that is)
Since Chinese New Year is still four months away, I pulled together this soba noodle soup using this broth two days in a row and it did not disappoint. As he was slurping it down, my son said, "If I can eat this every day, I'd be so happy…". Now that makes me so happy.
CHINESE VEGETARIAN SOBA NOODLE SOUP
Ingredients
1

bulbous Zha Cai

rinsed and chopped into medium sized chunks

1

small red Thai chili or red serrano pepper

or 2 if you like it really spicy

5

shiitake mushrooms

8

cups

water

1

Tbsp

tamari

2-3

scallions

thinly sliced

1

package soba noodles

5

bunches baby bok choy

or 1 large bunch of your favorite Chinese vegetables*

2-3

slices

of ginger

1

package tempeh

cut into cubes

2

Tbsp

sesame oil

divided

other toppings:

poached or hard boiled egg

sesame seeds

Kim Chi

Korean, but I had some in my fridge and couldn't resist!

seared GMO-free tofu

instead of tempeh
Instructions
In a large pot, put zha cai, spicy peppers, shiitake mushrooms and water. Bring to a boil. Reduce heat to medium low and allow to simmer uncovered for around 15 minutes. Add scallions and tamari and simmer for another few minutes. Once broth is finished, remove shiitake mushrooms, slice them and set aside.

In the meantime, cook soba noodles according to package instructions. When finished cooking toss with a little sesame oil to prevent sticking.

Chop the baby bok choy into bite-sized pieces. In a large skillet, heat 1 Tbsp sesame oil over medium heat. Add ginger coins and cook until fragrant, about 30 sec. Add bok choy and a couple pinches of sea salt. Saute until tender, about 5 minutes. Set aside.

In the same skillet (why wash another?), heat another 1 Tbsp sesame oil over medium heat. Add tempeh in one layer. Allow to cook until golden, then flip to other side. Splash some tamari on top while cooking (optional).

To assemble noodle bowl, place noodles on the bottom of each bowl. Ladle broth over noodles. Top with shiitake mushrooms, baby bok choy, tempeh, more scallions, sprinkle of sesame seeds and any other toppings that you desire! Eat and be happy...
Recipe Notes
* Yam leaves, gailon, water spinach are some of my favorites and can be found at your local Asian grocery store.  Note: The version I cooked the night before had Gailon, pan browned tofu, shiitake mushrooms and a poached egg. To cook the Gailon, heat skillet over medium heat. Add a Tbsp of sesame oil and 1 ginger coin. Heat until fragrant. Add 1 sliced clove of garlic and saute for a minute. Add Gailon and saute until tender, approximately 7 minutes. Add to broth and allow to simmer for a few minutes in order to soften the stems further. Serve with soup, noodles and desired toppings!
0